COMMUNITY EDUCATION ADVISORY COUNCIL
The purpose of the St. Francis Area Schools Community Education Advisory Council is to bring together balanced representation of municipalities, communities, organizations and school district citizens into association so well-planned and directed Community Education programs will be offered.
MEETING DATES
September 23, 2021
October 28, 2021
January 27, 2022
March 24, 2022
May 26, 2022
Meetings are held at the District Office, 4115 Ambassador Blvd. NW, St. Francis MN 55070. Meeting time is 4:00-5:30 p.m.
Contact Chris Lindquist, Community Education Director, if interested in joining or for more information. Email chris.lindquist@isd15.org or call 763-753-7048.
FUN FOR ALL AT THE COMMUNITY CONNECT EVENT
What started as a discussion about a community event/food drive at the October Community Education Advisory Council meeting blossomed into reality on December 16. St. Francis High School (SFHS) was host to the first Community Connect event. The cold weather did not keep people home, as many events were scheduled for families and community members. The "Fill the Bus" food drive, which SFHS Student Council took on, filled two buses with donations to the North Anoka County Emergency Foodshelf. The event featured tours of the newly renovated high school, given by students, and the Madrigal singers and jazz band provided music. The St. Francis Area Chamber of Commerce hosted a photo op with Santa and Mrs. Claus, and Early Childhood Family Education provided many family activities. Thanks to Custom Catering for braving the cold weather supplying their food truck and the delicious food. In the commons area, multicultural students hosted a potluck, and other high school clubs provided activities for everyone. All it takes is a little teamwork. Thank you to all who donated, attended, and helped make the event a huge success.
Support kids year round with food or monetary donations or order items from the Amazon Wish List. Visit nacefoodshelf.org for more information.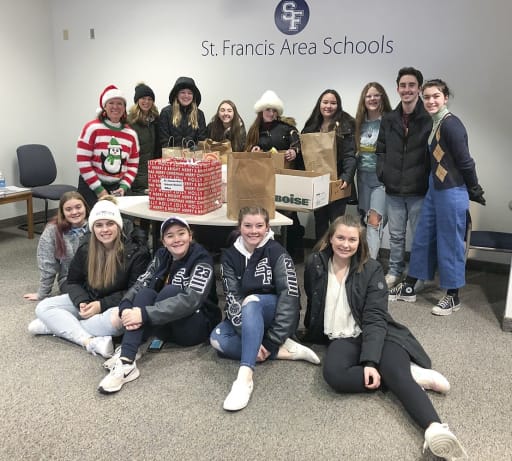 Superintendent Bus Giese and members of the St. Francis High School Student Council stopped by the District Office to pick-up donations for the North Anoka County Emergency Foodshelf at the end of the Fill the Bus food drive.